Nousha Kabawat is the Founder & Director of Project Amal ou Salam and director of the Syrian Center for Dialogue, Reconciliation and Peace in Toronto. Nousha has implemented trainings for Syrian activists in Amman and Istanbul in conflict resolution, negotiation, civil society building and transitional justice and has worked with refugee children in Turkey, Jordan, Lebanon, and Syria to empower the future leaders of Syria through education, intervention and trauma-based care. As the Program Officer for Syria at the Center for World Religions, Diplomacy, and Conflict Resolution at George Mason University, Nousha has designed programmatic content for overseas courses and civil society trainings across the Middle East. Her work has been recognized by the United States Institute of Peace and featured in National Geographic, BBC News, USA Today, and the Peace and Conflict Monitor. She holds a master's degree in Conflict Analysis and Resolution from George Mason University and a graduate certificate in Global Journalism from the University of Toronto.
Email: nkabawat@gmail.com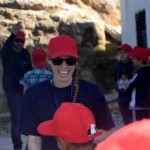 Becky Castellucci is the Partnerships & Operations Officer of Project Amal ou Salam. Becky has been passionate about the Syrian cause since her visit to a refugee camp in Turkey in 2013. She works in the International Division of the National Center for State Courts where she supports rule of law and access to justice programs. She holds a master's degree in conflict analysis and resolution from George Mason University and a bachelor's degree in international studies from Washington College.
Paola Lepori is the Outreach & Communications Officer of Project Amal ou Salam. Paola is a Middle East and international relations expert and works in the field of information and communication. She currently works at the European Commission in Brussels. Paola worked as journalist for several Italian newspapers. She lived in Amman and Damascus, before being forced to move out of Syria at the outbreak of the current crisis. She was looking for a way to support the Syrian cause when she bumped into Project Amal ou Salam and joined its family.
Email: paola.lepori@gmail.com
Soulaima Jabi is the Regional Programmes Officer of Project Amal ou Salam. She is a trainer and lecturer based in Damascus and Beirut who teaches team building and conflict resolution skills. Soulaima develops workshops, manages logistics, and helps guarantee the successful implementation of each project.
Yaman Barakat is Jordan Programmes Officer of Project Amal ou Salam. He supervises all our activities in Jordan.
Michelle Everson works at the Center for World Religions, Diplomacy, and Conflict Resolution at George Mason University's School for Conflict Analysis and Resolution. She has volunteered with Project Amal ou Salam in Turkey, Jordan, and Lebanon. Michelle holds a research degree in international conflict resolution with a focus on mediation from the University of Pittsburgh and is pursuing a master's degree in foreign service at Georgetown University.
Kathy Shirin Benemann, Education Growth Manager. Shirin supports Amal ou Salam's growth and impact activities, ensuring that innovative education opportunities are made accessible to Syrian youth and educators.  She advises the Founder to scale the organization by targeting populations in need with education programs that embody the organization's conflict resolution approach to learning.  Shirin also designs and delivers professional development for volunteer educators in the field, and has partnered with Pearson Education and Yale University to infuse socio-emotional learning techniques into her training modules.  She is a veteran participant during Amal ou Salam's 1-week long workshops with Syrian refugee youth in Jordan and Lebanon.
Shirin is currently CEO/Founder of Kiyo Inc., an educational technology consulting firm headquartered in New York City.  She holds an MBA and M.Ed from UC Berkeley and a B.S. in Biology from UC Davis.
Project Amal ou Salam's volunteers come from all over the world—Canada, the United States, Belgium, the Netherlands, Switzerland, the UK, Italy, the UAE, Lebanon, Jordan, Syria, and Australia, just to name a few! Our volunteers have diverse backgrounds—in education, international development, law, tourism, photography, business, technology, and much more. But they all have two things in common: they are passionate about helping the children of Syria, and they are essential to the work of Project Amal ou Salam.
Learn more about volunteering with us.