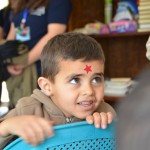 Project Amal ou Salam sponsors several schools in refugee areas in Jordan, Lebanon, and Turkey and inside Syria, and fully funds a school in northern Jordan.
The Amal ou Salam school, which is administered in partnership with Fikra (a Syrian NGO in Amman) is located in a rural area outside of Jerash, Jordan, and has the capacity to serve 60 children. The school plays an important role by filling a gap in the education system: Syrian children are not allowed to enroll in Jordanian schools until they are able to pass tests at their appropriate grade level. Most Syrian children who are living as refugees in Jordan have been out of school for several years and need significant catch-up time and individualized attention to make up for the hundreds of hours of class time they have missed out on.
The Amal ou Salam school prepares students to pass the tests that will allow them to enter the Jordanian school system and ensures that they can perform as well as their Jordanian peers in their new classrooms. Several dozen students from the Amal ou Salam school have already successfully made the transition to public schools. We miss these outstanding scholars, but we are proud of their accomplishments and excited to welcome even more students as we expand and improve the school building to accommodate the many Syrian children in the area who do not yet qualify for public education.